You guys, I love this show so much.
For those of you who can't name specific episodes by name like other dorks that may or may not be making lj posts about it, "The Mane Event" is the ep where Blossom's hair gets COMPLETELY BUTCHERED by Buttercup and Bubbles, to the point where all of Townsville (and the monster (and her own FATHER (and the audience too))) is laughing their asses off at how ridiculous she looks. I mean, it's awful, but it's HILARIOUS, and it's also super fucking amazing, and this is why.
gif set sourced from
bubbley-boo
In the beginning of the ep you see all the Girls waking up. Bubbles gets up with horrible bedhead.
Buttercup gets up with horrible bedhead.
Blossom gets up--
AND HER HAIR IS FUCKING PERF
So you think the natural progression of things is Bubbles and Buttercup are going to be super jealous of their perfect leader-slash-sister's perfect hair. But the great, amazing, wonderful thing is? THEY'RE NOT.
In the very next shot her sisters are smiling! Seeing their pretty sister with their pretty hair
actually makes them happy
. They spend the morning brushing it and playing with it (BUTTERCUP BUILDS A FUCKING RACE TRACK IN HER HAIR, SHE SHOULD STYLE ALL THE HAIRS) and helping her do it up! They never spend a single moment bitching about how much they hate Blossom for having beautiful hair that doesn't turn into a disaster area within a night. They don't make snarky remarks about who the fuck cares if your hair is gorgeous in the morning.
They never at any point exude any jealousy towards her for her hair whatsoever
.
Instead they revel in it
with her
. (They also inadvertently mutilate it within seconds, but they weren't being actively malicious. They were genuinely trying to fix it. They were just very, very bad at it.)
You know, as girls we're constantly expected (I think moreso than dudes) to always be jealous of other successful girls and women - because they're prettier, or they have nicer hair, or they have nicer clothes, or they're skinnier, etc., etc., etc. So isn't it just so great and awesome and amazing that all that business is completely absent from a show geared towards young girls starring three superpowered sisters?
(Granted, there is jealousy in "Ice Sore," but that is different - we aren't talking about a purely physical trait there (and so much of women's self-worth, particularly when you look at the media that's marketed to us, is supposed to revolve around being physically attractive); we are talking about a superpowered ability one girl gets that the rest of the team EXPECTS they should have because they all share the same powers.)
So when I see other fics depicting Bubbles or Buttercup (ESPECIALLY Buttercup) as being super-resentful or jealous of Blossom-in-high-school, I'm not really into it. And I understand that feelings can change as we get older, and we become more insecure as we go through puberty, so it's not entirely unreasonable. But I'm also not really into the idea (and expectation) that we're automatically conditioned to hate any other woman we see who we perceive as being "prettier" than us. I'd rather do as Bubbles and Buttercup did.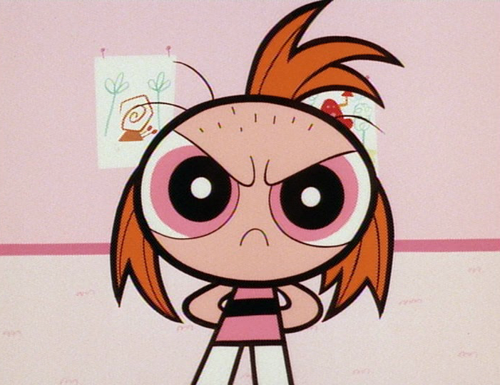 Up to the point where they fucked it up, that is.
tl;dr - "The Mane Event" is great, everyone should watch it, then come back here so we can gush. ♥
I made this post instead of working on TEF today. NO REGRETS
bottom img sourced from
the Powerpuff Wiki